ADMISSION PROCESS
PGPM program is offered at 6 IBS campuses i.e. IBS Ahmedabad, IBS Bangalore, IBS Gurgaon, IBS Kolkata, IBS Mumbai & IBS Pune.
MBA Program is offered at 2 IBS campuses i.e. IBS Dehradun & IBS Jaipur.
All candidates may apply through scores from 2018 onwards of IBSAT, CAT, NMAT by GMACTM, GMAT®, SNAP, XAT, MAT, CMAT, CET (Maharashtra) and any other State Level Tests.
Application form (PGPM 2021 Bulletin) may be purchased either through Online or Offline mode as follows. The cost of the application form (PGPM Bulletin) is Rs 1800.
Online:-
Offline:-
Offline Applications are available at IBS Marketing Branches - For nearest branches you may visit the website ibsindia.org/contact_us/
On purchase of application form you will receive a scratch card containing application number and password.
Candidates have to download the instructions for filling the online application form. The application guidelines are available on the link www.ibsindia.org/application-guidelines
Candidates have to log in with application number as login id and password using the link admissions.ibsindia.org/pgpm2021/application and fill the application form.
For Offline applicants, the application number and the password are available on the scratch card.
For Online applicants, upon successful payment (Rs.1800), candidates will receive a mail giving details of application number and password.
PGPM 2021 Bulletin will be dispatched to the candidates in the month of March 2021 on verification of the score card submitted by them.
The details are available on the website www.ibsindia.org
On filling the online application, you will receive a copy of the PGPM bulletin containing all the details about the institution, programs and processes.
There is no management quota or NRI quota.
The last date for applying for PGPM / MBA Program is April 28, 2021.
SCHEDULE
| | |
| --- | --- |
| Last date for Application Submission | April 28, 2021 |
| Selection Process Dates | May 1, 2021 |
| Selection Process Venue | At 8 IBS campuses i.e. IBS Ahmedabad, Bangalore, Gurgaon, Kolkata, Mumbai, Pune, Dehradun & Jaipur. However, if situation does not permit us to conduct process at campuses in April, ONLINE selection process will be conducted. |
| Selection Process Result | May 5, 2021 |
ELIGIBILITY
Graduation (any discipline) with 50% and above marks with medium of instruction as English.
Candidates not meeting the eligibility criteria of English medium in graduation have to submit the TOEFL/ NELT/ IELTS score by May 31, 2021.
All applicants should have completed a minimum 15 years of education (on 10+2+3 or 10+2+4 basis). For eligibility criterion, the aggregate percentage of marks secured in all the subjects of all the years shall be taken into account.
Applicants in their final year bachelor's degree course are also eligible to participate in Selection Process, provided they complete their graduation requirements (including practical examinations / viva / assignments / backlogs) before May 31, 2021.
For candidates whose degree results are not yet been declared, the admission will remain provisional until they produce marks sheets and degree certificates establishing their eligibility. The last date for submission of proof of graduation is November 01, 2021. Candidates who do not meet the eligibility criterion of scoring of minimum of 50% in graduation can apply for refund of 75% of the first installment of program fee paid.
The scrutiny of eligibility criteria will commence from August 2021 onwards. Hence, the onus of ensuring that they satisfy the eligibility criterion rests solely with the candidates. Any inaccurate information, misleading information or omission may result in withdrawal of admission offer and the fee paid by the candidate is non-refundable in such instance.
For any clarification eligibility criterion please contact IBS Admission Office, Hyderabad only.
FEE STRUCTURE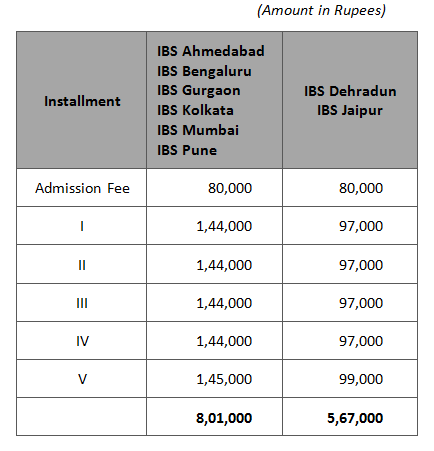 In addition, students have to pay Rs.10,000 as refundable Caution Deposit with the first installment of Program Fee.
No. The students are expected to bring their own Laptops when reporting at the campus.
COMMENCEMENT OF CLASSES
Regular classes for MBA and PGPM program will commence on May 05, 2021.
All the selected candidates are mandatorily required to report at the allotted campus on May 05, 2021 for program registration and submit the first installment of fees along with self-attested photocopies of Class X, Class XII and marks sheets for verification.
ACCOMMODATION
Hostel Accommodation (AC & NON-AC Rooms) is available at IBS Jaipur. The Accommodation & mess charges have to be borne by the students. However, hostel accommodation on the campus is optional.
Hostel facility is not available at other IBS campuses. However the campus administration will assist the students in getting a suitable off campus accommodation nearby the respective campus. The living expenses in these cities vary from Rs 10,000 – Rs 15,000 per month.
FINANCIAL AID
The candidates selected for IBS Programs avail educational loans from Public / Private Sector Banks.
IBS has entered into MOUs with the following financial institutions:
Eduvanz Financing Pvt. Ltd
AVANSE Financial Services Pvt. Ltd.
IBS offers Bridge loan to students admitted into the programs till they receive the sanction and disbursement of an educational loan from a bank. Students are required to pay the admission fee by the specified date from their own resources. The Bridge loan facility is available for the first installment of program fee and not for any subsequent installments due on future dates.
Under the bridge loan facility, IBS will accepts 1st installment of Program fee in partial payments by way of one Demand Draft and three cheques in equally distributed amounts. IBS students may utilize this facility until the bank loan is sanctioned. The details will be provided in the Selection Letter.
CONTACT
For any queries on PGPM /MBA, you may contact on the following address, email and telephone numbers:
Admissions Officer
IBS Admissions Office
Plot No. 65,Ground Floor,
Nagarjuna Hills, Punjagutta
Hyderabad – 500 082, Telangana, India.
Phone : + 91–40–2344 0963 / 62 / 61 / 60
Toll Free No : 1800 425 55 66 77
E-mail : ibsadmissions@ibsindia.org